Health Insurance
We offer a health plan through Quartz for all full-time employees. Employees need to average 30 plus hours a week (60 per pay period) to be considered full-time.
Preventive care is covered at 100% and no deductible applies. For other services, the plan requires a deductible before eligible services are paid by Quartz at 80% until you meet your maximum out of pocket.
BSJ Corporation provides employees with an HRA to help offset the deductible. See HRA Plan for details.
2024 Open Enrollment – The Deadline to Make Changes is December 7th!
Open enrollment for 2024 runs from Nov. 27th through Dec. 7th 2023. Meetings are scheduled at dates and locations below to discuss benefits for 2024 **You may attend a meeting at any location**
Nov. 29, 2023 – 9:00am ~ OnaTerrace – Onalaska
Nov. 30, 2023 – 2:00pm ~ Norseland Nursing Home – Westby
Dec. 5, 2023 – 9:00am ~ Virtual Meeting, see link below.
Dec. 5, 2023 – 2:00pm ~ Bethany St. Joseph Care Center – La Crosse
Dec. 7, 2023 – 1:30pm ~ Marinuka Manor – Galesville
Dec. 7, 2023 – 3:00pm ~ Onalaska Care Center – Onalaska
https://meetusi.webex.com/meetusi/j.php?MTID=m0badd3ac738b2479d92226b5495c12b3
Meeting number (access code): 2346 023 1800
Meeting password: MpZyJpy3*23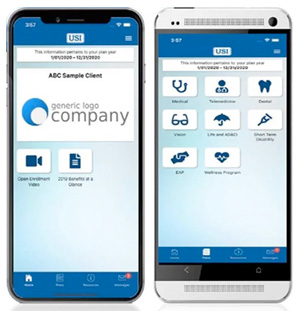 Mobile App: MyBenefit2GO
We are exciting to announce a mobile app for general benefit information.
In the app you will find benefit summaries, videos, and more to help you navigate your benefits — giving you access to important information regarding your benefit offerings. You will have the option of uploading a copy of your insurance cards, so you always have them with you.
You can download the app, MyBenefits2GO, for free through the Apple App Store or Google Play Store.
BSJ's six-digit code for the Mobile App is A36262